Hampshire SLS is pleased to announce all our subscribing schools now have access to eAudio titles free via our ePlatform 
Over time we will grow our eAudio collection as we are doing with our eBook collection
Schools can browse our eAudio collection for free through our ePlatform.  Just like eBooks schools can purchase their own titles and build a school only collection.  To enable eAudio purchases, contact Wheelers or if you are unsure contact the Digital Team for help.  There is a cost of £200 to enable eAudio purchases and this is paid to Wheeler's.
Our eBook & eAudio Moodle section has updated marketing material to enable you to promote eAudio along with eBooks.  In the Moodle area you will find everything your school needs to know about ePlatform click here.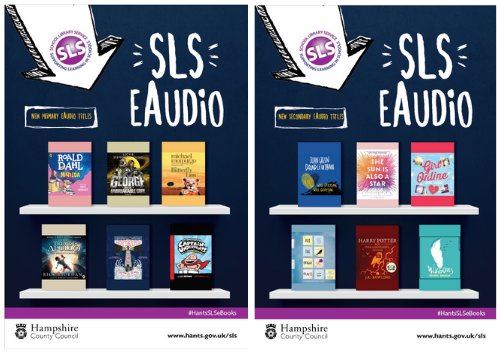 Our ePlatform collection is the largest and broadest education collection in Europe.  Currently we have 3694 unique titles, we our proud of the depth and diversity of our collection.
For more information on how you can access our ePlatform for free please contact our Digital Team 01962 826663 digi.sls@hants.gov.uk