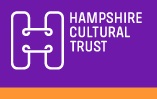 The West End Centre in Aldershot invites any child aged 5-11 to enter their 2017 short story competition, judged by authors Mick and Chloe Inkpen, creators of favourite children's characters Kipper The Dog, Wibbly Pig, and Fred.
Stories must be based on one of the following: 
•           The unusual visitor
•           The amazing invention
•           The hole in the wall
The competition has two categories: age 5 - 8, and 9 - 11. Stories should be a maximum of 250 words, there is no minimum. Entrants must be residents of either Hampshire or Surrey, and must be between 5 and 11 years old on the date of submission.
Closing date: end of Friday 23 June 2017; winner Announced: Friday 14 July 2017. 
To find all terms and conditions and to enter please visit  https://hampshireculturaltrust.org.uk/short-story-competition