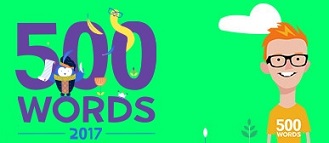 BBC Radio 2's writing competition has just reopened for 2017.
Entrants write an original story on any subject or theme in 500 Words or fewer and submit it online. If they win, their story will be read live on the radio by a superstar celebrity…such as Julie Walters, Tom Hiddleston, Sir Kenneth Branagh, Jeremy Irons, or Sherlock himself – Benedict Cumberbatch.
Competition entries for 2017 are open from 8.00am on Monday 16 January and close at 7.00pm sharp on Thursday 23 February.
All stories must be submitted via the 500 words website by creating a submission profile. Stories can only be entered by a parent, guardian or teacher on behalf of a child.